Deezer VS Spotify: A Detailed Comparison
If you are asked to name a music streaming platform quickly, you might say Spotify without hesitation. But I don't know if you have heard of some smaller platforms, such as Deezer. There are similarities in functions between them, but there are also many differences. In this article, we will compare Deezer and Spotify in a detailed comparison, to help readers who want to know more about Deezer or want to have more music platform choices.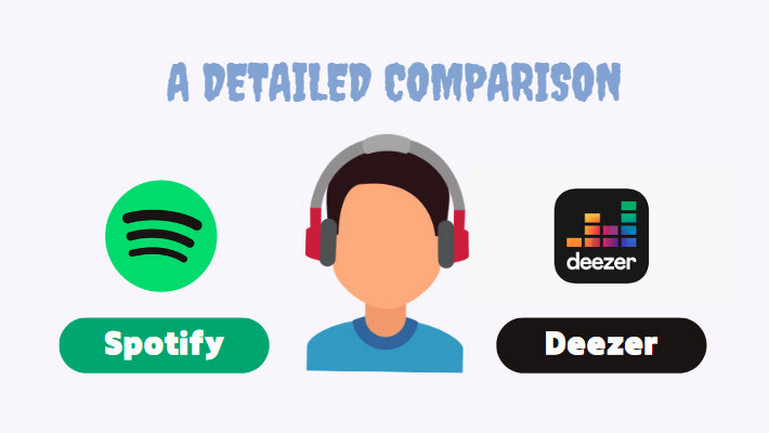 Part 1.

Deezer VS Spotify: Streaming Plans & Pricing
| | Deezer | Spotify |
| --- | --- | --- |
| Free plan | √(only free for the first 30 seconds) | √(free for a whole song) |
| Student | 1 month free then $5.99/month | $4.99/month |
| Premium | 1 month free then $10.99/month or $98.91/year | $9.99/month |
| Premium Duo | ---- | $12.99/month |
| Family | 1 month free then $17.99/month or $196.99/year | $15.99/month |
Both services offer free, ad-supported plans to test the waters. In terms of student discounts, although Deezer is more expensive, it provides a one-month free trial for users to experience whether they like Deezer, which is a more user-friendly setting. For other subscription plans, Spotify has an advantage in terms of price, but if you want to subscribe for a year, Deezer's fee will be more favorable than a single monthly subscription. Another point is, Deezer HiFi is incorporated into every paid plan.
---
Part 2.

Deezer VS Spotify: Content

Spotify has included 100M+ and more than 5M+ million podcast titles. With a rich collection of podcasts, podcast lovers can enjoy exploring their favorite podcasts. Spotify also has an existing collection of audiobooks that can be found in the "Word" section.

On the other hand, Deezer also offers the aforementioned content and has a music library of over 120 million. Compared with Spotify, Deezer does not have so many podcasts. But Deezer offers tons of exclusive original foreign language podcasts that you won't find on Spotify. In general, both platforms provide music, podcasts, audiobooks, radio stations, etc., which can meet the daily needs of users. At the same time, they also have exclusive content called Deezer Originals and Spotify Singles respectively.
---
Part 3.

Deezer VS Spotify: Audio Quality

Audio quality is an important factor in choosing a music platform. The biggest thing that still sets Deezer and Spotify apart is audio quality.

The sound quality of Spotify supports up to 320kbps, but you must subscribe to Spotify Premium first. The free Spotify account is only capable of 160kbps. At the end of 2021, Spotify announced that it would launch the Spotify HiFi tier, but in the end, it seemed that there was no clear release.

Compared with Spotify, the sound quality of Deezer already had HiFi settings, which plays lossless FLAC files at 16-bit/44.1kHz, so long as you pay for Deezer Paid plan. This kind of sound quality is stored in the lossless FLAC format, which is very attractive for sound quality enthusiasts.
---
Part 4.

Deezer VS Spotify: User Interface and Functionality

Program page design is also a point that users value more, but aesthetics are subjective, and everyone has their preferences.

The user interface design of Spotify is mainly composed of two colors black and green. After opening the program, there are four tabs below, which are Home, Search, Your Library, and Premium. On the Home interface, you can see the songs you have played recently and various mixes generated by the system based on your listening preferences. On Your Libiary page, you can see everything you like or follow and filter by Playlist, Artists, Albums, Podcasts, or Downloaded.

The UI design of Deezer is also simple and clear. The main features are dark and light modes. After opening Deezer, you can see that there are four main options on the page, namely Music, Podcasts, Explore, and Favorites. Like Spotify, you can find your recently listened to songs and various suggested playlists on the Home interface. The function of Favorites is the same as that of Your Library, which records the songs you have downloaded or you like. The difference is that Deezer makes Podcasts into an interface, where you can find your favorite podcasts according to different categories.
---
Part 5.

Deezer VS Spotify: Music Discovery

A very important indicator of whether users can be retained is the music discovery capability of the music platform. You must know that there are millions of songs on a music platform, and users can't listen to them one by one. In this case, the platform's ability to discover music for them and deliver music to users is crucial. Fortunately, Spotify and Deezer both have good achievements in this regard.

Deezer's main discovery feature is "Flow", which is a constantly updated playlist that can be modified in real-time by blacklisting tracks or artists. But one of the characteristics of flow is that you can't see the complete song list before playing, and each song is arranged randomly. For those who like unknown surprises, this feature can make them always look forward to the next song, while for those who want to know in their hearts, a completely unknown playlist may make them unable to relax and immerse themselves in the song. But fortunately, you can adjust your listening preferences in real-time, and the system will re-screen in time.

One of the most special design features of Spotify is Discover Weekly playlist, which contains 30 songs generated every Monday according to your listening preferences. Additionally, Spotify has Daily Mix, Release Radar, as well as Artists, Genre, Mood, and Decade Mixes to explore new songs. In Spotify, the more songs you listen to, the richer and more accurate the recommended songs will be.
---
Part 6.

Deezer VS Spotify: Social Features

One of the standout features of Spotify is its social features. You can link your Spotify account with Facebook to find your friends' profiles and browse and follow their playlists. At the same time, Spotify also supports users to create a playlist and set it as Collaborative, and then share the link with other Spotify users for editing.

Deezer also allows you to follow your friends' profiles, view and save their playlists. However, Deezer cannot see your friends' live listening activity. By the way, both streaming services allow you to share songs with several apps.
---
Part 7.

Deezer VS Spotify: Service Availability

In terms of service availability, Deezer is currently available in 185+ countries and regions, including Europe, the UK, North America, and other countries and regions. Spotify covers 184 countries or regions. The two software cover a wide range of countries and regions, and users can use them normally.
---
Part 8.

Conclusion: Deezer VS Spotify, Which Is Better

Both Spotify and Deezer provide excellent music streaming services, and their functions and page design can meet the needs of most users. Of course, both have their strengths. For example, in terms of audio quality, Deezer can support up to HiFi, and in terms of social functions, the settings of Spotify is more diverse. So when discussing which one is better, the most important thing is to start with the user's needs. Depending on which aspect of the function you value more, rank them in order of importance.
---
Part 9.

Extra Tip: How to Download Deezer Music to Computers?

Here we introduce a very useful method by the way. Whether it's Spotify or Deezer, their songs are in a specific format. If you want to download songs locally, you need to use other tools. DeeKeep Deezer Music Converter is a converter used to convert Deezer music into MP3, WAV, FLAC, and other common formats. It supports up to Hi-Fi sound quality song download.

Step 1.Log in to Your Deezer Account

Run DeeKeep on your computer. After the system is running, two windows will pop up, one is the main operation page of DeeKeep, and the other is the Deezer web player. If the web player does not open automatically, you can click Open the webplayer window at the upper right of the main page. Then follow the instruction to log in to your Deezer account on the web player.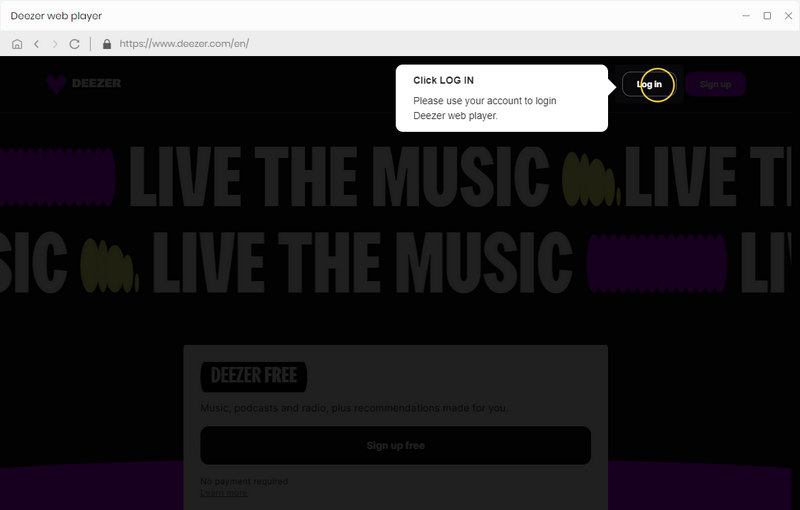 Step 2.Customize the Output Settings
Select DeeKeep's operation page and click on the "Settings" tab in the lower left corner, where you can change some output parameters like Output Format, Bit Rate, Sample Rate, Output Folder, Output File Name, and the way to organize output files.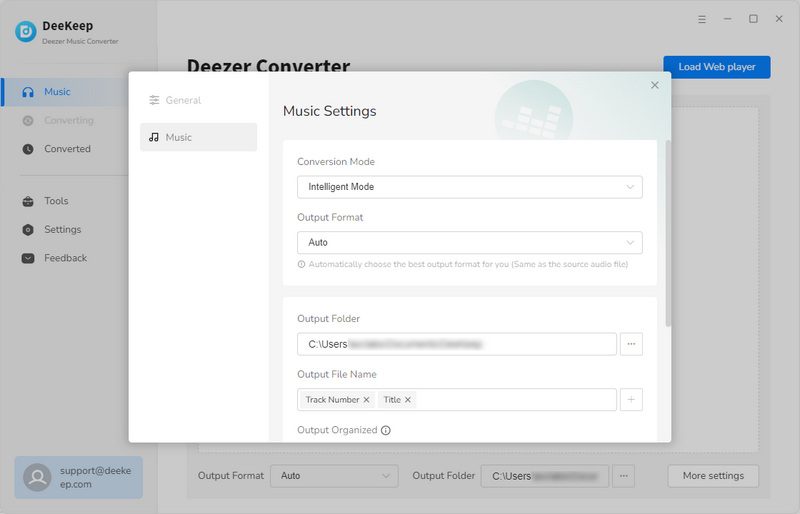 Step 3.Select Songs from Deezer Web Player to Convert
After completing the output settings, you can go to the Deezer web player and select the song or album you want to download. After opening it, click "Click to add" on the lower right to add the song. The system will automatically analyze the playlist, then you need to select the song you want to download and click "Add" to add them to the download list of DeeKeep.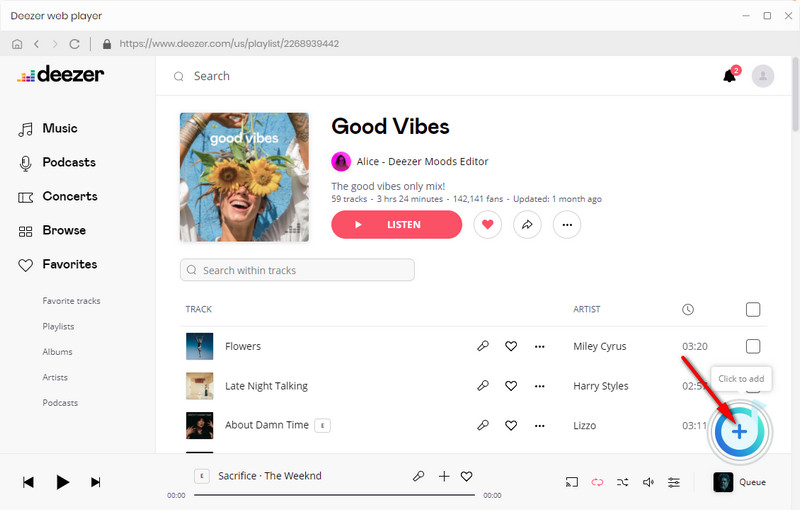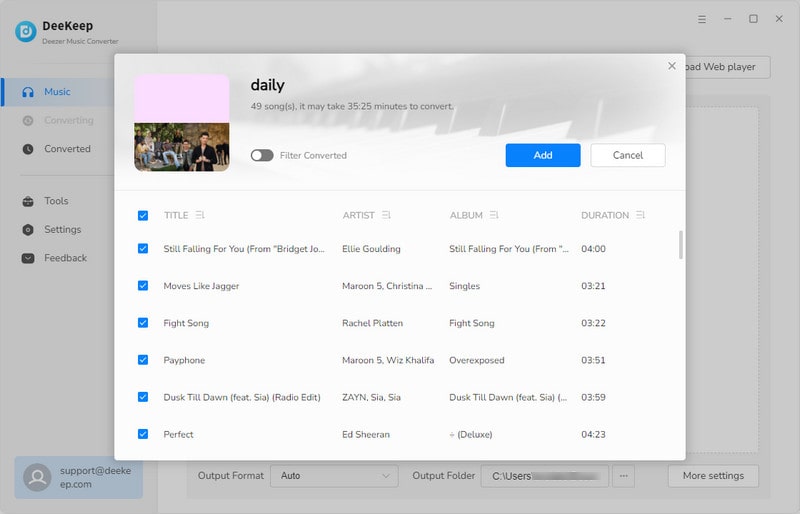 Step 4.Begin to Convert the Selected Songs
In this step, click the "Convert" button to initiate the conversion immediately. Please patiently wait till complete.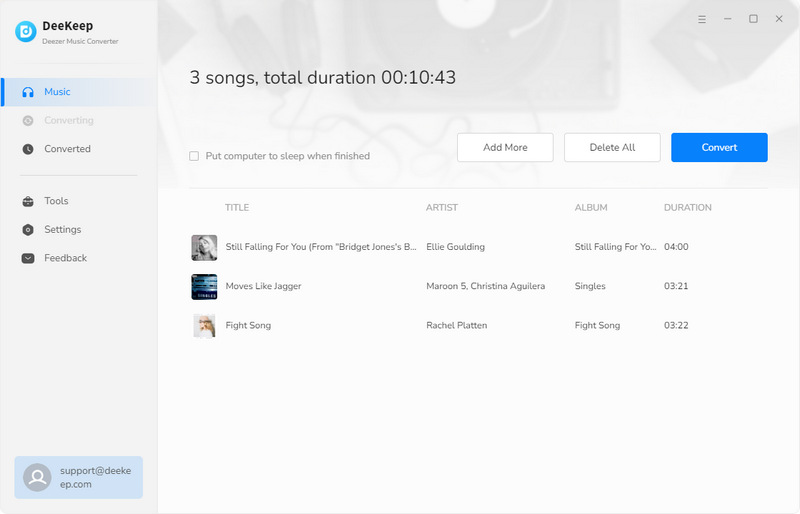 Step 5.Check Downloaded Songs
When all selected songs are downloaded successfully, you can check the converted songs in the "Converted" section. Songs downloaded through DeeKeep would permanently stored on your computer and are not affected by Deezer subscription. You can also use these downloaded songs with any other device or software.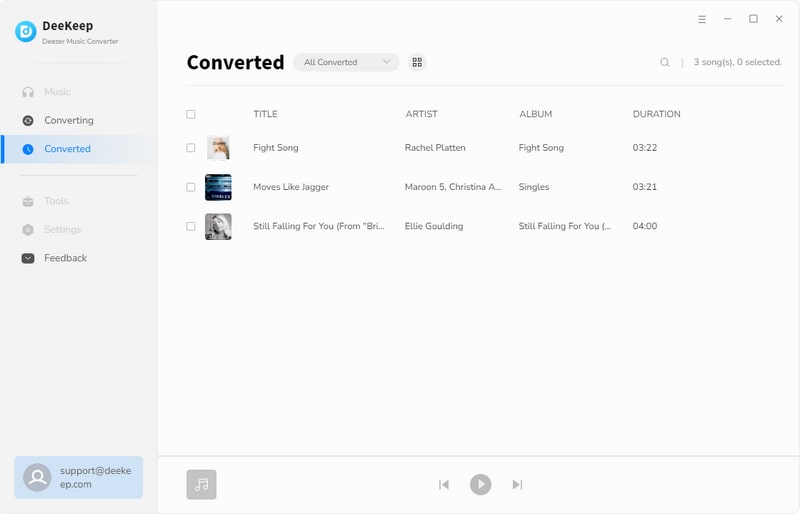 ---
Summary
In this article, we discuss and make a detalied comparison between Spotify and Deezer, which would be helpful for you to understand the two platforms more clearly. Choosing which platform to use ultimately depends on which features or preferences you value more. Of course, we also provide you with a way to get rid of the subscription limit and download Deezer music permanently. If you think this article is helpful to you, please share it with your friends.
---