How to Add Deezer Music to TikTok as Background Music
If ten years ago belongs to blogs, then today belongs to video. TikTok is a world-leading video-sharing app that allows users to create, share and watch personalized videos. Different from YouTube, TikTok focuses on short videos. They require less time and shooting skills, facilitating most people to create videos fast and lowering the threshold. TikTok switches the users from the audience to creators, everyone can share their life fragments, and that's why TikTok becomes a hit very soon.
When you create videos, TikTok provides a music library and you can add music to your videos. But so many videos apply the same music, how can you make your videos different and unique? The good news is that you can apply Deezer music to TikTok as background music now. Although no Deezer in TikTok's music library, you can do that with a few easy steps.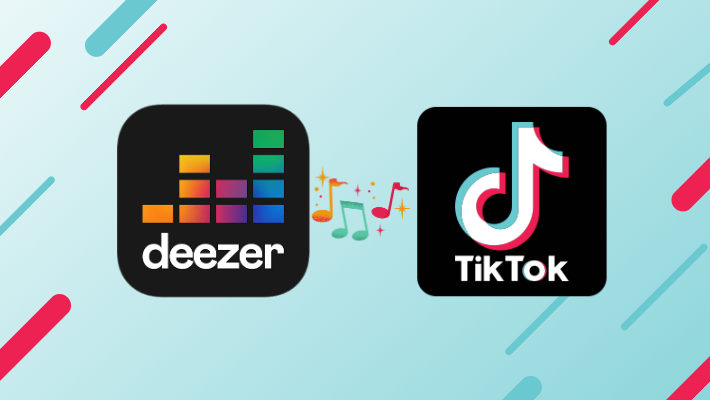 ❓Can I directly use Deezer music on TikTok?
👉 No. Streaming music cannot be used on TikTok. As we all know, Deezer is a music streaming service. It allows you to listen to over 90 million licensed tracks, and download Deezer MP3 and HiFi music for offline playback. However, the Deezer downloads are only stored as cache files on your device and are encrypted music files. You can find them within the app data folder, but you cannot extra them to your local devices, never to say use Deezer music as TikTok BGM.
❓How can I add Deezer music to TikTok?
👉 To add Deezer music to TikTok and use it as background music, you need to break the restrictions brought by the music streaming service. And you are required to use the tool named DeeKeep Deezer Music Converter.
DeeKeep Deezer Music Converter is designed as an expert to download Deezer music to local computers and convert them to plain formats. When Deezer songs are saved on your computer as common audio files, you can easily use them as TikTok background music and make your TikTok videos different. Read the below steps to know about the best Deezer music converter and learn how to use it.
Step 1.Run DeeKeep Deezer Music Converter
If you have not installed the DeeKeep program, click the blue button above to download the right version that matches your computer system. Install and launch the converter. And you will see the "Open Deezer Web Player" button in the middle of the interface. Click on it. Then you are navigated to the built-in Deezer web player. Follow the tips to finish the login. When it is done, you can directly use the Deezer web player without login required afterward.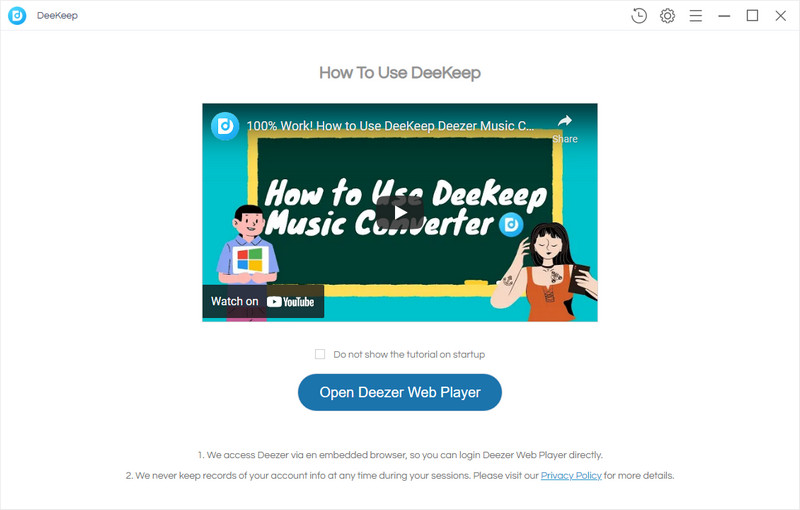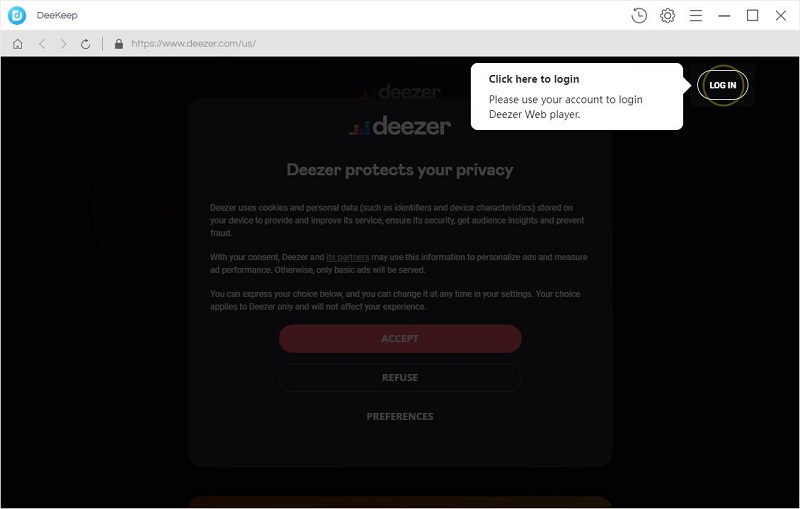 Step 2.Change Output Parameters Accordingly
Deezer music is streamed in MP3 or FLAC format. If you have no special requirements for the output parameters, skip this part and download Deezer songs directly. But if you do have one, then click on the gear icon "Settings"

in the top right corner. A dialog will pop up, which contains many output options, like Output Format, Output Folder, Output File Name, and Output Organized. To output Deezer music more customized and personalized, change the parameters as you wish. The popular MP3 format is recommended.
Output Format: MP3, AAC, WAV, AIFF, ALAC, FLAC, AUTO.
Bit Rate: 128 kbps, 192 kbps, 256 kbps, and 320 kbps (Up to HiFi quality).
Sample Rate: 44.1 kHz, 48 kHz, 96 kHz, 192 kHz (depending on the format selected).
Output File Name: Track Number, Title, Artist, Album, Playlist Index, Year.
Output Organized: Playlist, Artist, Album, Artist/Album, Album/Artist, None.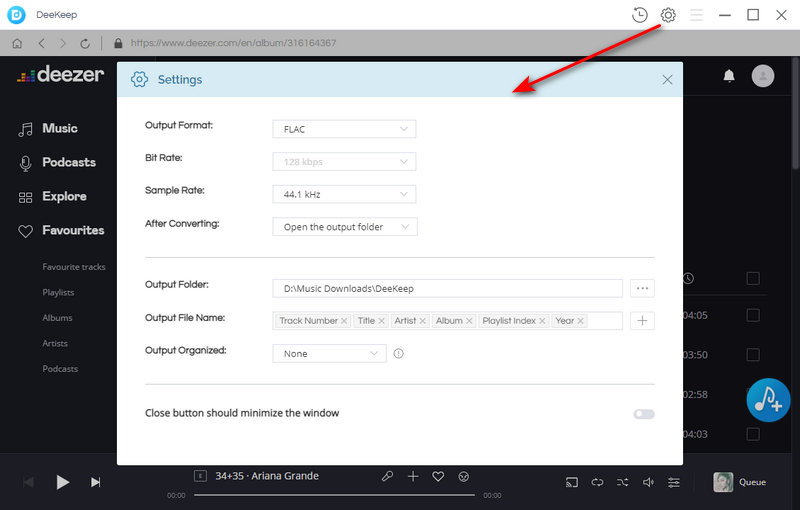 Step 3.Choose Deezer Music to Download
On the Deezer web player, find the specific Deezer songs, playlists, albums, or podcasts you would like to download. If you are going to convert playlists or albums, click their cover to open them. You will see the "Add to list"

icon on the right-hand side turns to blue, which says there is available Deezer music on the current page. Click it. On the new dialog, tick the Deezer songs, and select "Convert Now" to begin the conversion immediately.
If you want to download several Deezer playlists or albums in a batch, select "Save to list", and the ticked songs will be saved to the task list. Next, open another playlist or album to pick more songs and save them to the list too. Hit on the "task list"

icon and select "Convert". DeeKeep will proceed to download Deezer songs to your computer at up to 10X the speed.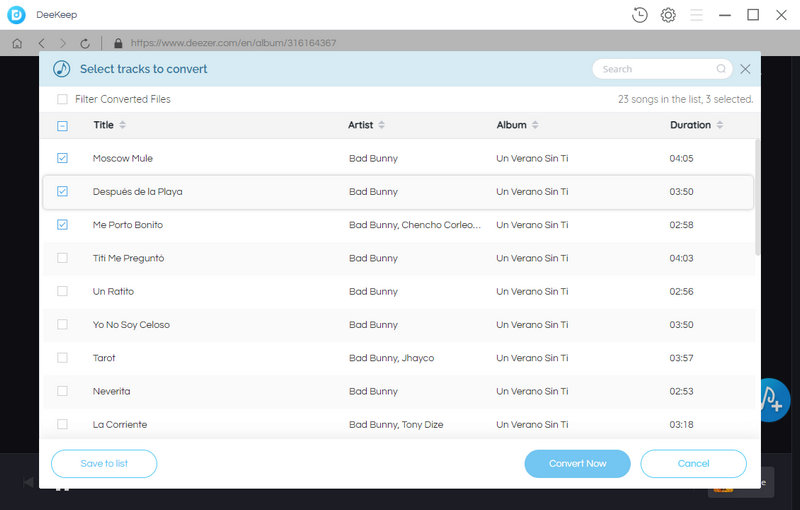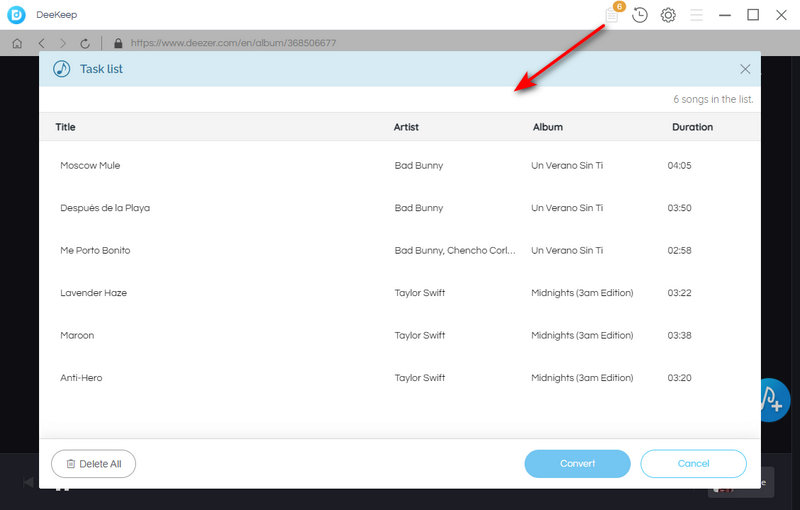 Step 4.Browse Downloaded Deezer Music on Computer
After the conversion progress is finished, the output folder window will automatically occur on the screen. You can check the properties of Deezer music. Now all the Deezer songs are successfully downloaded to your computer. You can use them as common audio files, transfer the Deezer music to USB, etc. The extracted Deezer music is decrypted and is no longer impacted by your Deezer subscription status. Even if you are a Deezer Free user, you can still listen to your favorite Deezer songs offline.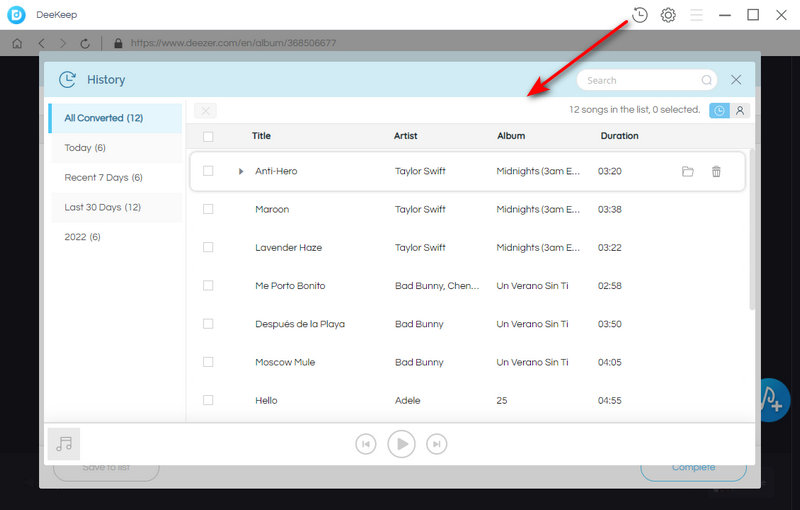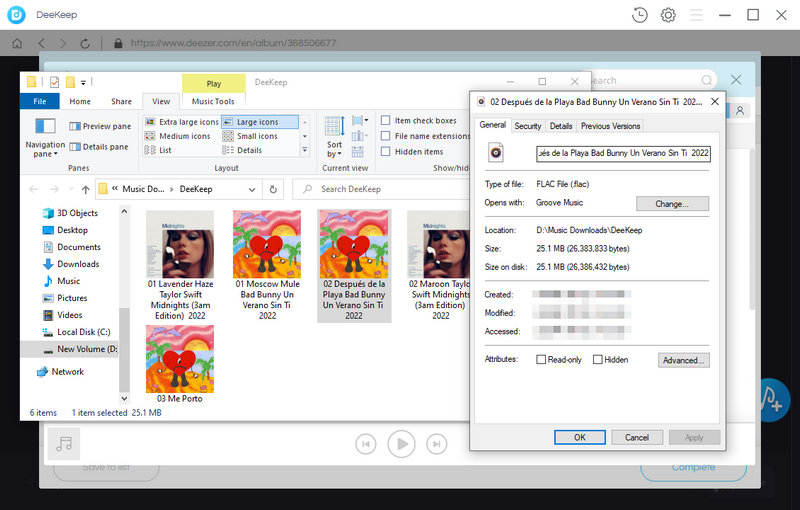 Step 5.Transfer Deezer Music to Mobile Phone
For the convenient use of the Deezer music, transfer them to your mobile devices. If you use an Android, connect your phone to your computer with a data cable and copy Deezer music files to the music folder on your phone. If you use an iPhone, transfer the Deezer music files to your iTunes library first, and connect your iPhone to the computer, sync Deezer music files to your phone via iTunes.
>> You may need: How to Download Deezer Music to Android phone
>> You may also need: 3 Top Ways to Download Deezer Music/Playlists to iPhone
Step 6.Add Deezer Music to TikTok Video
Open a video editor app on your phone. If you don't have any of the apps, install the InShot app from the app store. After entering the app, tap on the Music part, and select MY MUSIC. All the Deezer audio files will then be shown on the screen. Scroll to choose the concrete Deezer song, and confirm to use. If you want to edit the Deezer song, you can operate with the features that the app offers. Deezer music will finally be used as the background music of your video. And you can post it on TikTok.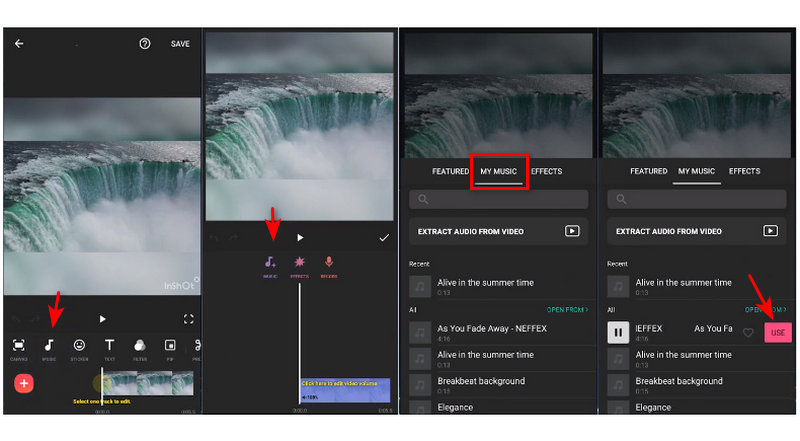 ---
Summary
Although TikTok does not provide you with the option to apply Deezer music directly, you can still use Deezer songs as background music. The only app you need is DeeKeep Deezer Music Converter, which works for downloading Deezer music to local computers and converting Deezer songs to plain formats. After you transfer Deezer music to your phone, you can listen to your favorite Deezer music freely and edit them to the sound you want. So do not hesitate. Get DeeKeep now and make your TikTok video different.
---