Easy Way to Download Deezer HiFi Music Without the App
Deezer, a French music streaming service, now offers over 120 million licensed tracks with nearly 100% of the music catalog streamed with HiFi quality, which means you can enjoy music with lossless details of studio recordings from Deezer. Deezer currently provides a web player and application, you can listen to its music from the web and the app, and even download your favorite songs for offline playback.
Some users would like to use the web player only because installing the app takes up device space. Nicely, in this article, we will discuss how to download Deezer HiFi music without the Deezer app. Want to learn something new? Follow us.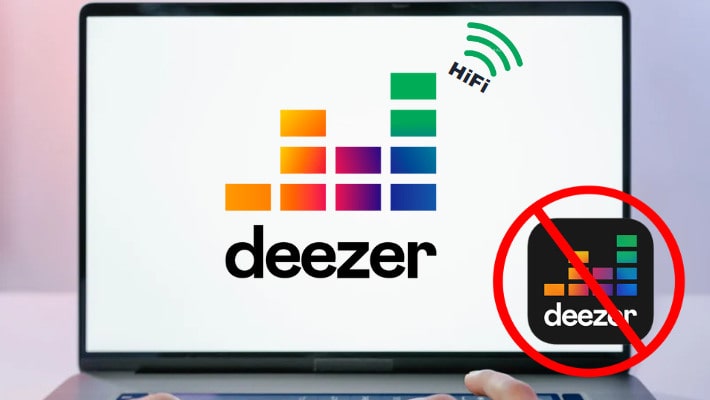 ❓Can I Download Deezer Music Without the App?
❌ When it comes to downloading Deezer music, you cannot find the download function on the web player, since downloading isn't supported by the web, only the app is available to do that. That is to say, you cannot download Deezer HiFi music without the app directly.
But if you do not want to install the Deezer app, or you are using a Mac computer that cannot install the app, and you just want to use the web player, can you still download Deezer HiFi music? Of course, you can. But you need some help. Read the following contents.
❓How to Download Deezer HiFi Music Without the App?
✅ From the above, you cannot download Deezer HiFi music without the app in a direct way. But a software program can help you to do that. DeeKeep Deezer Music Converter is a reliable and powerful assistant to download Deezer music to local computers with up to HiFi quality saved. It works by accessing the embedded Deezer web player, in this case, you are not required to install the Deezer app on your devices. In other words, you can download Deezer HiFi music without the app now. It sounds really good for Deezer web player users and Mac users.
Let us know about the program and learn how to use DeeKeep now. To get started, please download and install DeeKeep on your computer first. DeeKeep supports both Windows and Mac.
Step 1.Start DeeKeep Deezer Music Converter
Please click to start the DeeKeep program on your computer. Next, you will see the official Deezer web player is opened. Follow the tips to log in to your Deezer paid account.
Currently, Deezer has canceled the HiFi plan in some countries and regions, premium users have entitled to the right to enjoy HiFi quality at no extra cost, so a paid account is enough.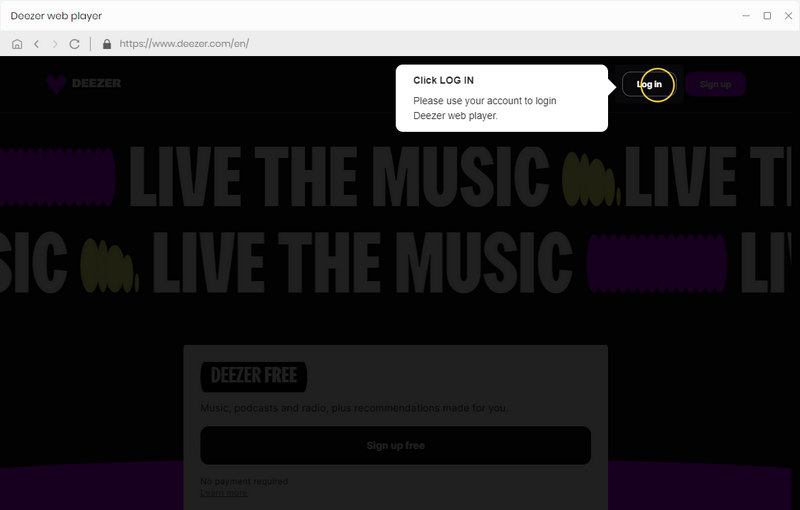 Step 2.Designate Parameters for Deezer Music Output
Move your cursor to the lower left corner and click on the tab "Settings"

. If you have no special requirements for the output parameters, then select "Auto" as output format. DeeKeep will output Deezer music with the original format and quality, which is FLAC with HiFi (16-bit and 44.1kHz). Then choose an output folder and an output organized way and edit the output file name as you wish.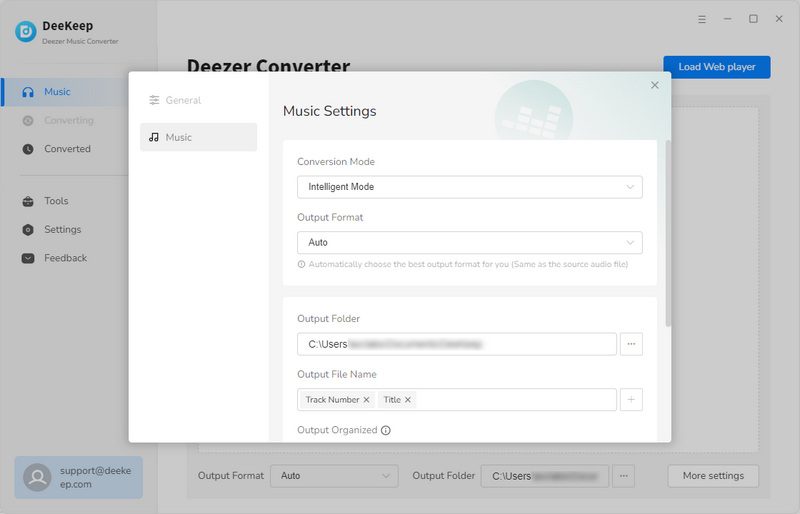 Step 3.Pick Deezer HiFi Music to Download
As most Deezer songs now have HiFi quality, it is very easy to get your favorite Deezer songs with HiFi. Now head to the Deezer songs you want, and click the cover to open the playlist or albums if needed. Click on "Click to add". You can see a windows pop up. Pick the songs you want and just select all, then select the button "Add" to add them to list.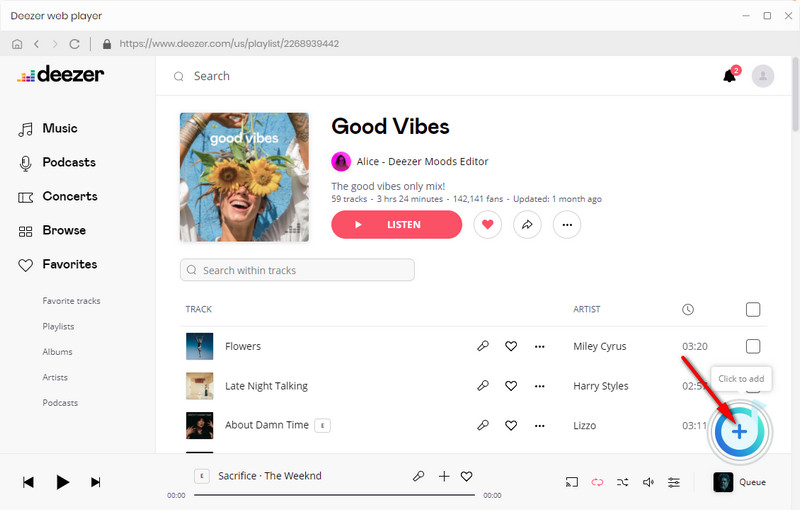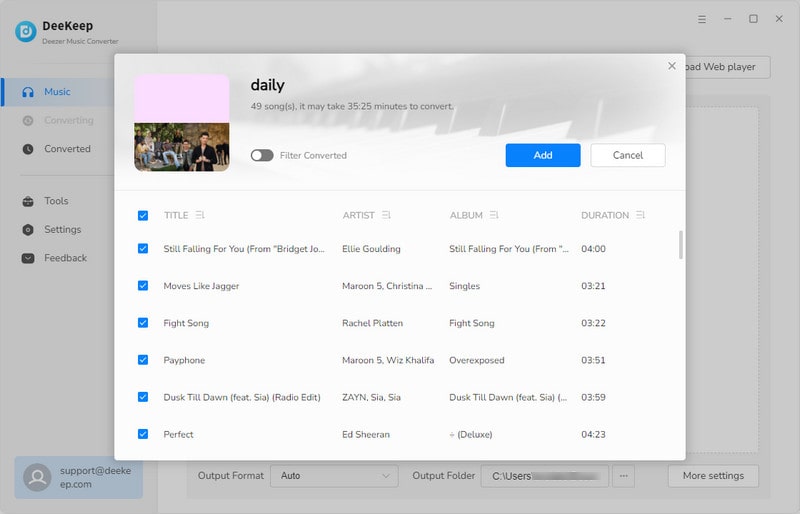 Step 4.Start Downloading Deezer HiFi Music to Computer
If you select the "Add More" button, you are allowed to add more songs to this batch. After picking all the Deezer songs you want, click on the "Convert" to start downloading your wanted Deezer HiFi music in batch. DeeKeep runs at up to 10X the speed, so it won't take too long to convert all the songs.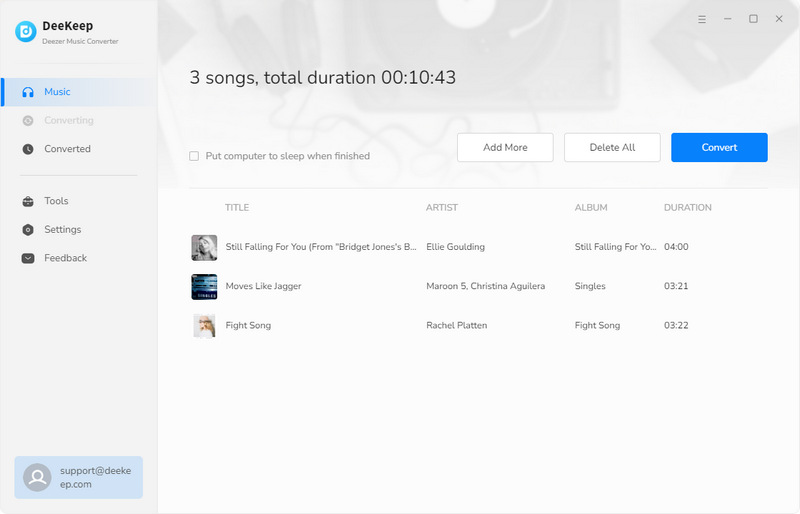 Step 5.Browse Downloaded Deezer HiFi Music on Local
When the downloading is complete, the output folder window will occur. The folder can also be found by clicking the "Converted" section and the folder icon within the item. From the window, you will find all the Deezer music saved to your computer. Right-click to check their properties, and it can be seen that all of them are saved with HiFi quality.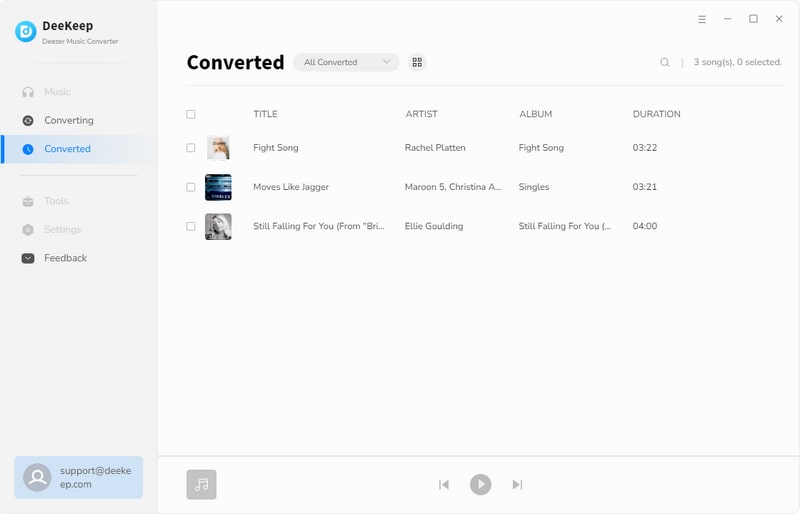 ---
Summary
From the contents above, it is realized that Deezer music cannot be downloaded without the app directly, since only the app has the download function. But the good news is that this limitation can be broken by the program. DeeKeep Deezer Music Converter is a great assistant in this field. It works via the built-in Deezer web player, making it come true to download Deezer HiFi music without the app. That should be amazing for the Deezer users who won't install the Deezer app or whose Mac computers cannot install the app.
It is also found that with the Deezer web player embedded, DeeKeep supports searching and playing Deezer music independently. It is a comprehensive tool more than a Deezer converter. So if you are looking for a tool like that, try DeeKeep. It is free to download and offers a free trial version.
---