Transfer Hi-Fi Deezer Music to SD Card for Offline Playback
Why would you want to save Deezer music to an SD card? First of all, the SD card is external storage. When the phone memory is insufficient, saving Deezer music to an SD card is a good choice. But more importantly, you don't want to lose these favorite songs when changing devices. But in fact, Deezer songs are in an encrypted format, even if you save them to the SD card, you cannot get these Deezer music stored on the SD card without any restrictions. Today we will teach you how to extract common format songs or playlists from Deezer, and then transfer them to the SD card so that you will truly own these songs. And you can enjoy permanent Deezer music playback through this SD card. Follow us to learn how to download Deezer music, albums, playlists, podcasts to an SD card in MP3, FLAC, or other common formats with just a few clicks.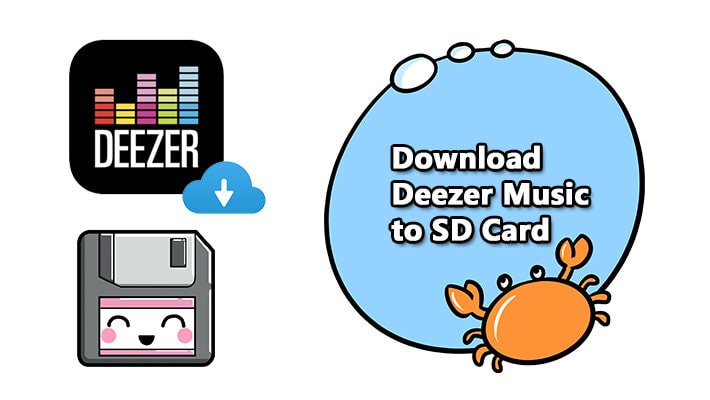 Method 1. Download Hi-Fi Deezer Music to SD Card by Default
The phone storage is usually occupied by loads of apps and files. So there is not enough space if you need to store Deezer playlists. But if your phone is compatible with an SD card, then you can select the SD card as the default storage path. This is a considerate suggestion when you need to find enough room for Deezer downloads.
Step 1. Open the Deezer Music app on your device and go to the Home section.
Step 2. Go to Settings > Other > Storage.
Step 3. Choose the SD card to store your downloaded Deezer tracks. Tap OK to confirm.
The downloads can only be played via Deezer. I bet you are not quite satisfied with this solution. You may want to get more control of Deezer Music downloads by moving the Deezer Music downloads to an SD card. Thus, we'd better convert the Deezer music, albums, playlists, and podcasts to common formats and own these audio files forever. This is the ultimate solution to transfer Deezer Music to an SD card. Check the next solution you will find a perfect way to accomplish your purpose.
Method 2. Download Deezer Music to an SD Card for Permanent Playback
The Deezer Music premium subscription costs $9.99 per month with the ability to save tracks for listening offline. And songs can not be played without Deezer. All downloads are encrypted. If you need to remove the restrictions, a professional music converter is necessary. DeeKeep Deezer Music Converter is specifically designed for Deezer users to download music to a plain format and keep music forever. With this Deezer Music Converter, you can:
✅ Get access to Deezer Music when you are not a subscriber.
✅ Songs from Deezer can be transferred to any other device, such as an SD card, a USB flash drive.
✅ Songs from Deezer can be played without the Deezer Music app or Deezer web player.
✅ Songs from Deezer can be played via a common media player.
✅ Songs from Deezer can be shared with your family and friends.
Steps to Transfer Deezer Music to an SD Card
Step 1. Open DeeKeep Deezer Music Converter
At first, you need to download and install DeeKeep Deezer Music Converter on your Windows PC or Mac in advance. After that, we start the detailed steps to convert Deezer music into a common format and transfer the downloaded music to an SD card. Start DeeKeep Deezer Music Converter when it's installed successfully.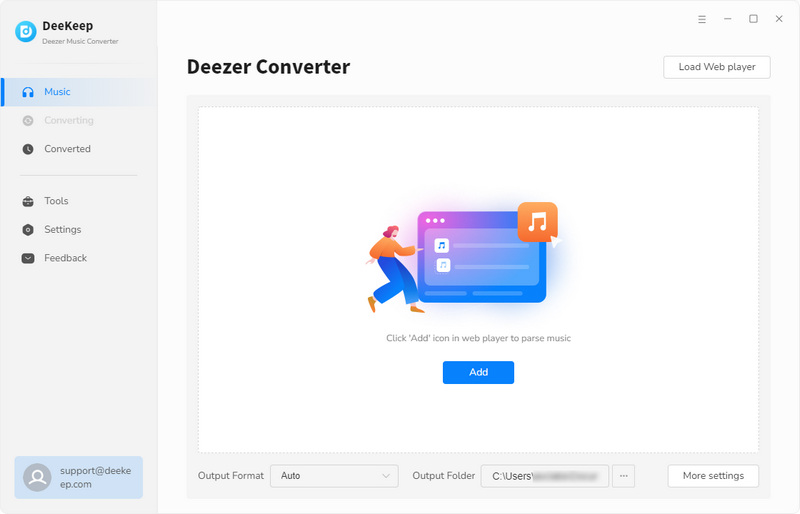 Step 2. Log in to Deezer Music
When starting DeeKeep, you will find Deezer web player running at the same time. Enter the built-in Deezer Music web player. Then log in to Deezer Music with your account.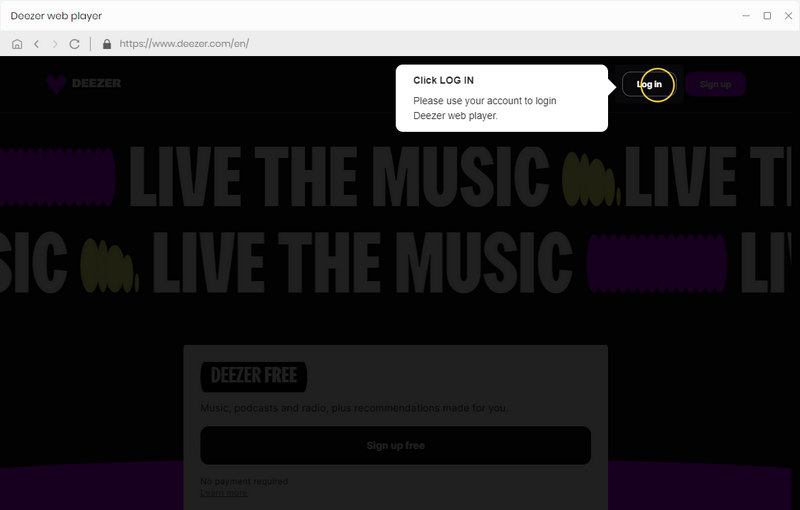 Step 3. Set Output Parameters
In the lower left, locate a "Settings "

. Hit on the Settings button. Soon, a setting interface will appear. You can select the preferred parameters, such as output format, bit rate, sample rate, output folder, output file name, output organized manner.
Tips: Generally, we set the output format as MP3. MP3 can make the volume of audio files smaller under the premise that the sound quality is still close to high fidelity. And an MP3 format file can be compatible with most media players. If you pursue better audio quality, you need to select Auto, FLAC, WAV, AIFF, ALAC as the output format. Choosing a lossless compression format can make the sound quality better, and even save Hi-Fi sound quality. However, such a format will make the saved file too large. Therefore, you need to prepare more space for storing music. Also, please note that not all players support playing music in lossless music format.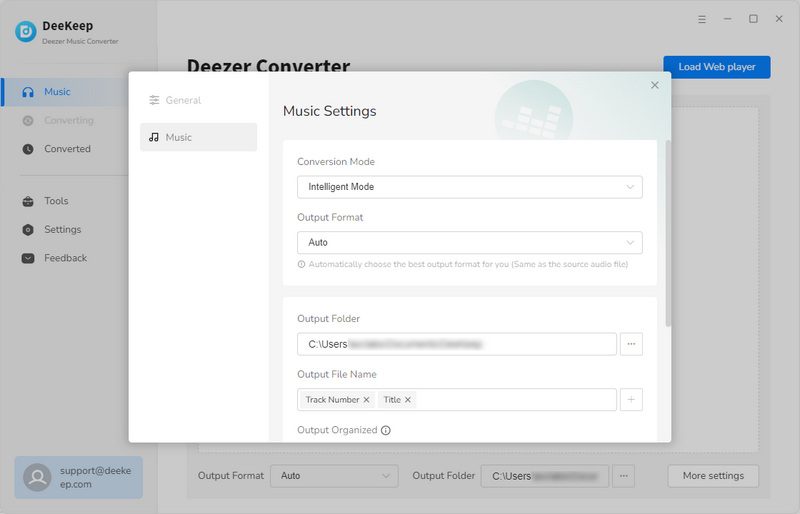 Step 4. Convert and Download Deezer Music to local PC
Find a music album you need to convert. There is a suspending tag in the lower right - "Click to add". Click the button. Then you are allowed to select songs from the music list to convert. Once you finish the selection, click "Add" to add them to list.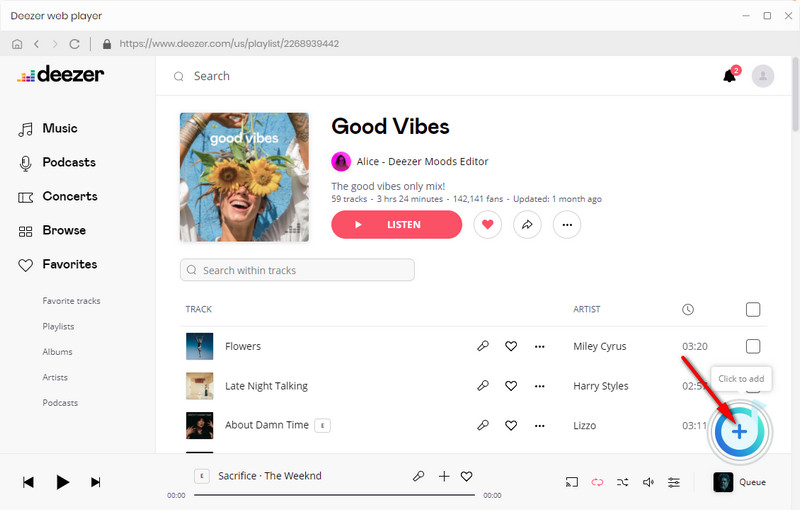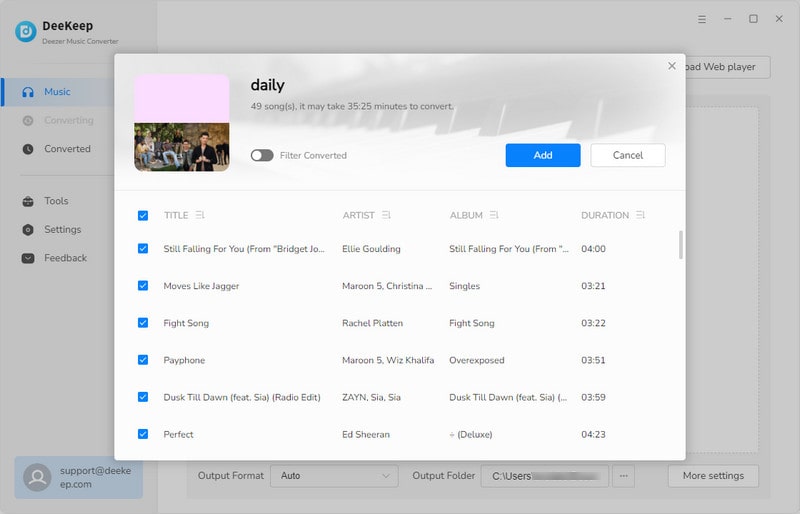 After that, you just need to tap "Convert" to start conversion.
Tips: If you need to convert more songs from other playlists, hit on the "Add More" button instead of "Convert". Then the selected songs will be added to the list. After all of the songs you need are added to the task list, tap "Convert" to start converting songs in the download list.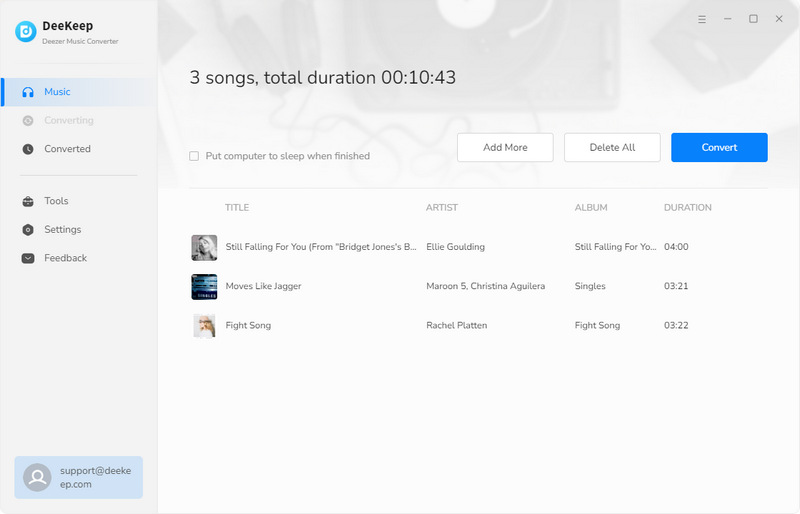 Step 5. Transfer the Downloaded Deezer Music to SD Card
With the help of DeeKeep Deezer Music Converter, you have converted songs from Deezer to a local computer in common formats. You can find the downloaded songs in "Converted" section. Now you can easily copy these local music files to an SD card. Just get an SD card reader and connect your SD card to the computer. Or insert an SD card into a mobile device and connect the device with a computer. Then copy the downloaded Deezer music to the SD card.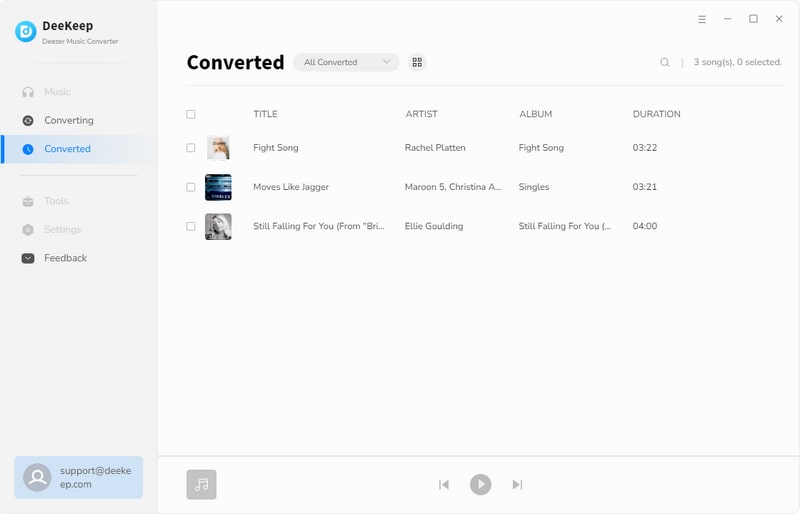 ---
Summary
In this article, an excellent option is provided by DeeKeep Deezer Music Converter to move Deezer music to an SD card easily. With DeeKeep, you will get greater control of Deezer's music, albums, playlists, and podcasts. Just download it and get a chance to enjoy free playback of Deezer Music via an SD card right now!
---