How to Download Deezer Music to AAC Format
While not as popular as some of the other major streaming services, Deezer is a great option with a clean UI, easy to understand EQ controls, and the option to stream HiFi FLAC files on desktop. Deezer is music streaming app that allows you to enjoy music in CD-quality with the bonus of Free Lossles Audio Codec (FLAC) sound on over 73 million songs. The Deezer songs are encoded with 16-Bit/44.1 kHz FLAC to provide the best listening experience.
From the Deezer forum, we found an interesting article. One user said, "For a better audio fidelity experience Deezer should change the streaming codec from the old inefficient mp3 to the newer and more efficient AAC which a.o. enables newer Bluetooth headphones to sound better, because no conversion is needed." And over 140 Deezer users upvoted this.
So what is AAC? Why people prefer AAC format than MP3 or even lossless FLAC? Keep reading, we will give you a clear answer and provide an easy way to help you get Deezer songs as AAC format.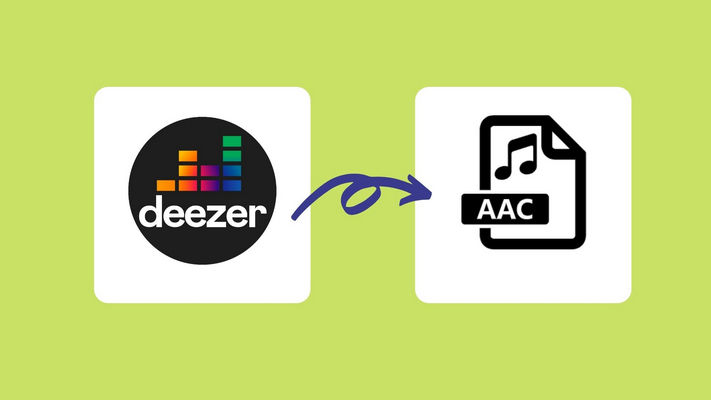 Part 1. FLAC VS AAC VS MP3
1. What is FLAC, AAC or MP3?
FLAC (hi-res): This lossless compression format supports hi-res sample rates, takes up about half the space of WAV, and stores metadata. It's royalty-free and is considered the preferred format for downloading and storing hi-res albums. The downside is, it's not supported by Apple (so not compatible with Apple Music).
AAC (not hi-res): Apple's alternative to MP3 – stands for 'Advanced Audio Coding'. Lossy and compressed, but sounds generally better. Used for Apple Music streaming.
MP3 (not hi-res): Popular, lossy compressed format ensures small file size, but far from the best sound quality. Convenient for storing music on smartphones and iPods.
2. FLAC VS AAC
Lossy vs Lossless: AAC is a lossy format which means it works by cutting away features of the music which are less readily perceptible and so non-essential. This means that lossy files are normally smaller, which can be an advantage for portable devices. It also means that lossy files are cheaper to download. However, sound quality is reduced. FLAC on the other hand is lossless which means it maintains almost all audio data after compression. This mean that the sound quality is maintained but there is no reduced file size benefit. Because of this, FLAC is often used for archiving purposes.
Sound Quality: AAC is a lossless format and so it will lose some audio data during compression. This means that theoretically, it should not sound as good as FLAC. If all things considered equal, FLAC will sound better, however not everyone may be able to hear the difference.
Uses: AAC is also widely used as the as the audio component of the popular MP4 video format and is the default format for streaming services like YouTube. FLAC is royalty-free and is considered the preferred format for downloading and storing hi-res albums. In comparison to AAC, FLAC is not supported by Apple and so it is not compatible with iTunes.
File Size: FLAC Files are normally around three to five times larger than the corresponding AAC file.
3. MP3 VS AAC
MP3 is the most common audio format, and MP3s are convenient for storing music on portable players or tablets and work on almost all playback devices. But to do that, you have to lose a load of information in the process. In order to make audio files up to ten times smaller than CD quality files, some original data must be discarded, resulting in a loss of sound quality. Another lossy format is AAC (Apple's Advanced Audio Coding) which is compressed much like an MP3, but it's slightly more efficient and sounds better. AAC is used for Apple Music streaming (at 256kbps) and YouTube streaming. If you're sticking with lossy, it's worth remembering this: while more "bits" usually means better sound, it depends on the efficiency of the codec in your file. Although you might notice that much of the music in your collection is encoded at 128kbps so should be much of a muchness, an MP3 will likely sound a fair bit worse than an AAC file, due to the inefficiency of the codec in an MP3.
If you want to save device storage and enjoy Deezer music on Bluetooth headphones, iTunee or more devices, AAC will be a better option. But unfortunately, Deezer currently only allows user to download songs as FLAC or MP3 format, and the downloaded songs will not be available once you have canceled the Deezer subscription just as any other steaming music services does. However, today we will shows you one simple way to download Deezer songs to your computer as AAC format and free enjoy Deezer songs offline.
---
Part 2. Download and Convert Deezer Music to AAC
To download Deezer songs as AAC format, here we need a professional music converter - DeeKeep Deezer Music Converter. DeeKeep is a simple yet powerful Deezer music downloader and music converter. With DeeKeep, you can directly convert Deezer songs, albums and playlists to MP3, AAC, FLAC, WAV, AIFF and ALAC with lossless output audio quality while keeping the ID3 tags after conversion. All the downloaded songs will be available even after the subscription ends.
Step 1. Finish the Installation of DeeKeep Deezer Music Converter.
At first, get DeeKeep Deezer Music Converter installed on your computer without any ads. 25 languages are available for users from different countries. The Deezer app is not needed since DeeKeep can extract songs from the Deezer Music Web Player directly.
Step 2. Log in to Deezer Web Player.
Open DeeKeep, and Deezer web player will start at the same time. Then you are required to log in to Deezer Music.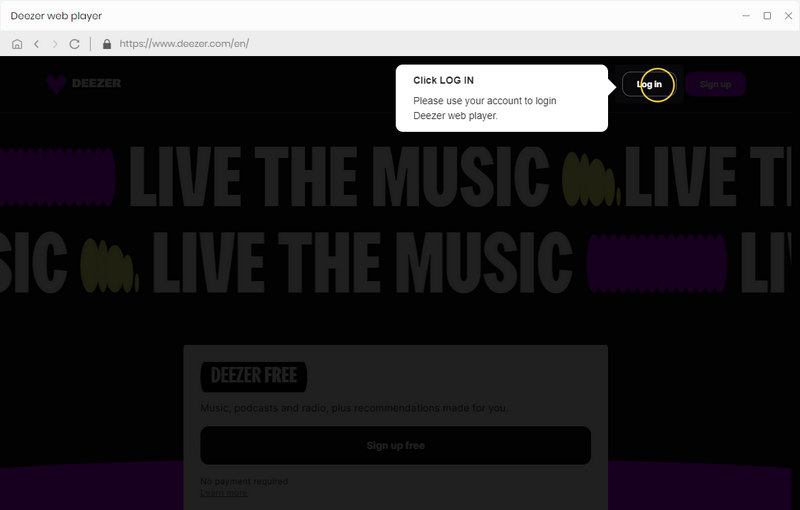 Step 3. Customize the Output Settings
Before downloading music, go to the "Settings"

on the lower left. Click it then a setting panel appears. Here you are able to set the output format, bit rate (output quality), output folder, output file name and output organized manner. If you choose "AAC" as the output format, the songs will be saved as original audio quality up to Hi-Fi audio quality.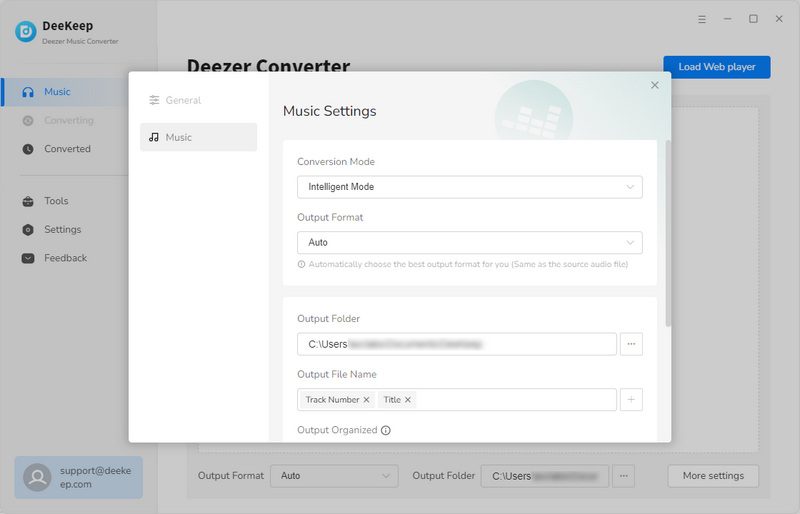 Step 4. Choose Music and Playlists to Download
Open an album you need, then tap the "Click to add" button on the lower right. Then choose songs you want in a new window and click "Add".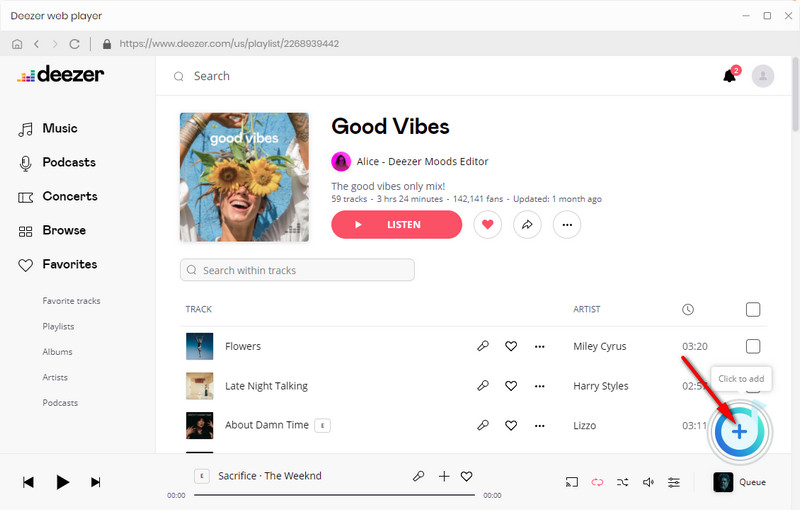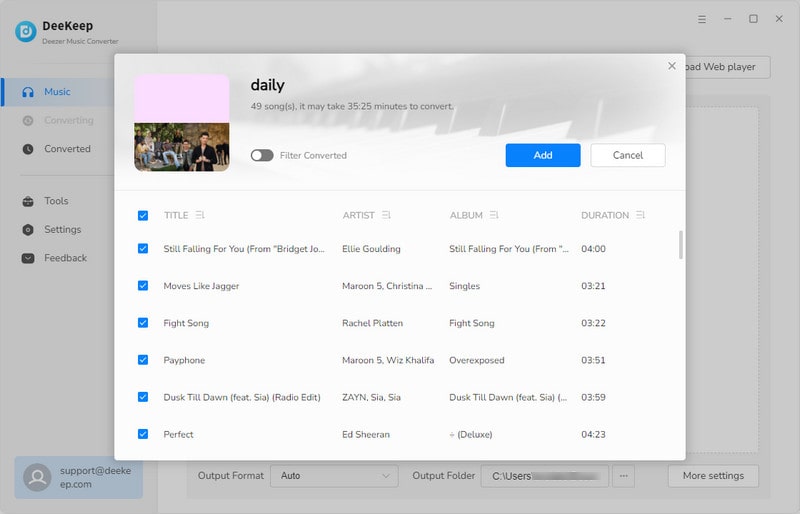 Step 5. Start Downloading Deezer Music to AAC
All songs from the music playlists are displayed. Select songs you need to download, and click "Convert" button to start downloading. After a while, the selected songs are downloaded as AAC songs. Go to the left bar, click the "Converted" to check all downloaded songs. In addition, the output folder will pop up automatically when the conversion is finished. Now you can enjoy free playback of Deezer Music and move the downloaded Deezer Music tracks to any device.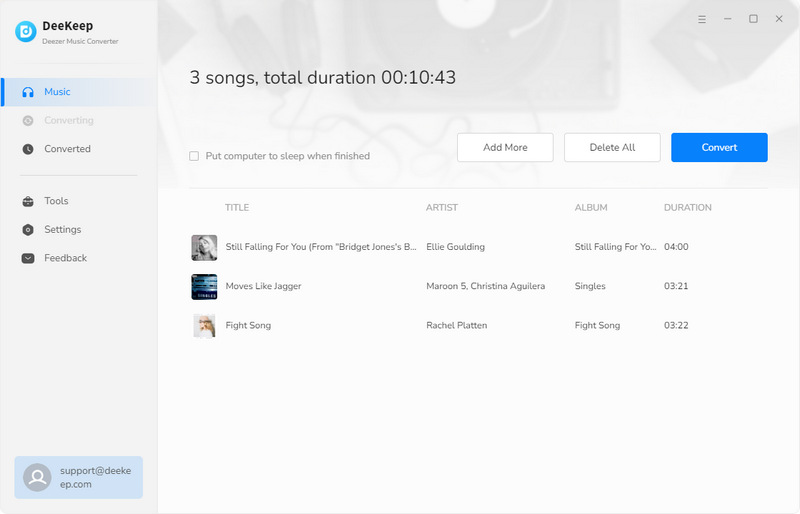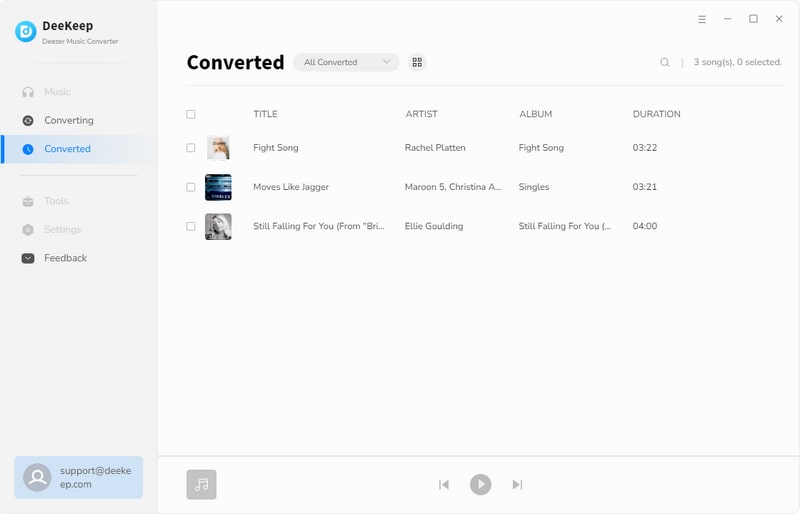 ---
Summary
DeeKeep is specifically created for users who need to download songs from Deezer to MP3, AAC, FLAC, WAV, AIFF, ALAC plain formats. This software can preserve the sound quality you need to the greatest extent, and preserve the song tag information intact. Just download and start a free trial.
---