How to Import Deezer Music to Serato DJ
Serato DJ helps many computer DJs to create their works with its simple and elegant demonstrations and comprehensive functions. It is said it is the prerequisite tool for each greenhand, although a sophisticated DJ uses the tool too. Currently, it has users of millions of DJs, producers, engineers, and musicians across nearly 190 countries and regions.
Friends who use Serato DJ must find that you can log in to Beatport, SoundCloud, Beatsource, and Tidal in Serato to use their songs directly, as Serato DJ at present cooperates with them. But you can also find that the songs downloaded from other music apps such as Spotify, Amazon Music, Deezer, etc. cannot be imported to Serato, even if you have a premium account. Why? Why are you not allowed to do that? Because these downloaded tracks are protected by DRM and are not compatible with the software. So how not be bound by these rules? Or how to use your favorite songs in Serato? In this article, we will show you how to import Deezer songs, playlists, albums, and even podcasts to Serato DJ. Read it carefully, and you'll get a surprise. If your friends have the same question, share the passage with them.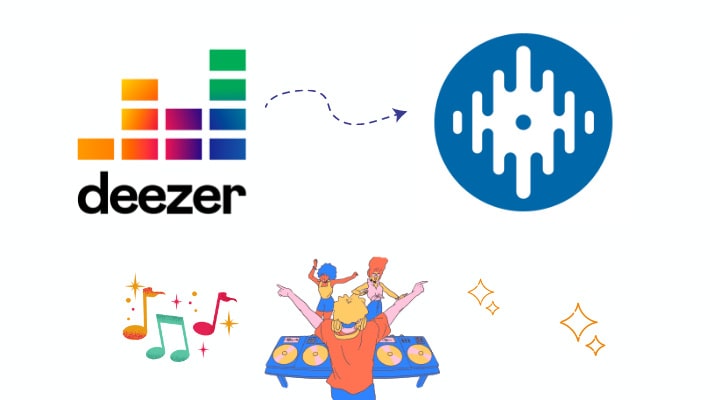 Part 1.

Download Deezer Music to Computer

As Serato DJ doesn't allow users to directly use music from Deezer, you should download your favorite Deezer music to your computer first. You can download Deezer songs with the Deezer desktop app, but these songs are encrypted. So we suggest you use the method described below.

DeeKeep Deezer Music Converter is a professional tool that can help you to download Deezer songs, playlists, albums, and podcasts without installing the Deezer desktop app, which will save lots of space on your device. At present, it is a popular converter in many countries and regions and has been praised for its simple page and rich features. With DeeKeep, you can enjoy the followings:

Step 1. Start DeeKeep Deezer Music Converter

Start DeeKeep. If you don't have DeeKeep on your pc, download it by clicking the blue button above, and install it on your computer. Remember to choose the right version for your pc. After successful installation, launch DeeKeep and head to the Deezer web player. Then log in to Deezer with a premium account.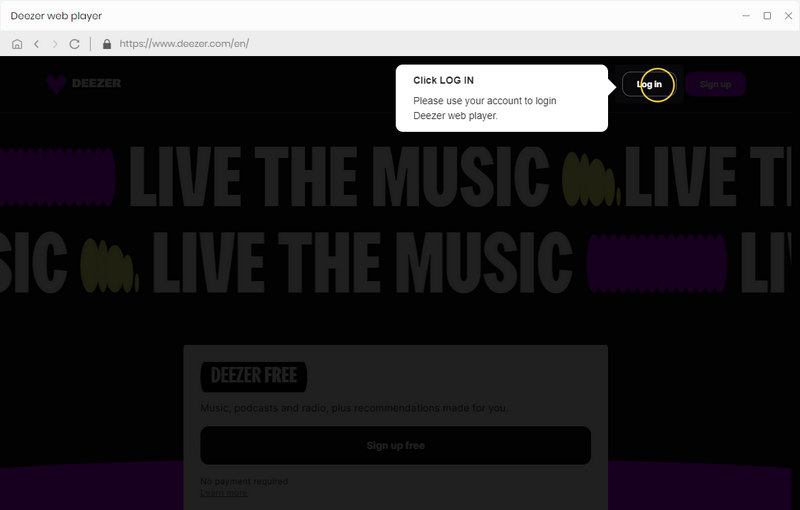 Step 2. Set Preference in DeeKeep
Before downloading music, you should set your preferences. Undoubtedly, DeeKeep is a nearly perfect tool, as it provides users with comprehensive features and allows users to edit music files at will.
Got to the DeeKeep's main interface, click the "Settings" tab in the lower left corner of the page. Here, you can set the Output Format from MP3, AAC, WAV, AIFF, FLAC, and ALAC; set Bit Rate and Sample Rate; edit Output File Name from options like track number, title, artist, album, playlist index, and year; Output Organized from options including Playlist, Artist, Album, Artist/Album, Album/Artist, Playlist/Artist, Playlist/Album; and choose the Output Folder, which should be focused because it decides where the downloaded music files will go to.
If you want to download Hi-Fi Deezer tracks, you can choose "Auto" to download the original quality.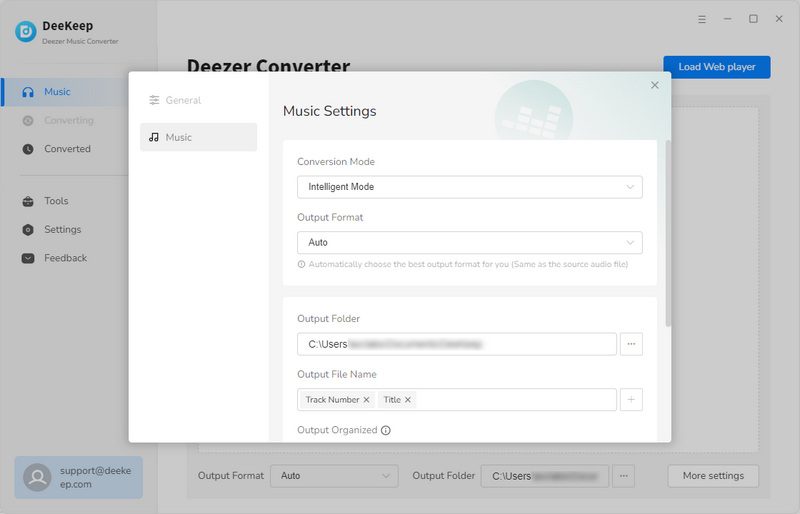 Pay attention, as Serato DJ only supports MP3, OGG, ALAC (Mac only), FLAC, AIF, WAV, WL.MP3, MP4, and M4A, you should choose the output format based on the supported formats.
Step 3. Select Deezer Songs/Playlists/Albums/Podcasts
Choose the playlist or other content you want, and open it. And click "Click to add" on the lower right side of the page. A parsing window will pop-up. Now you can choose the concrete tracks at will. Tick them and click "Add".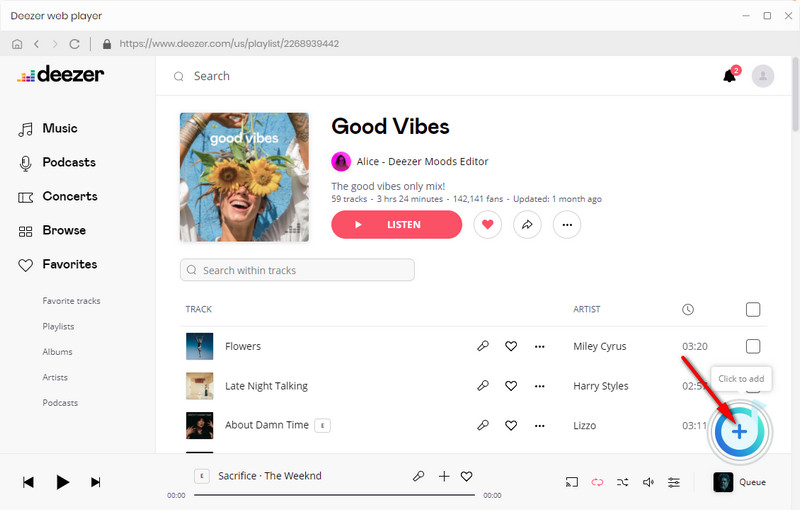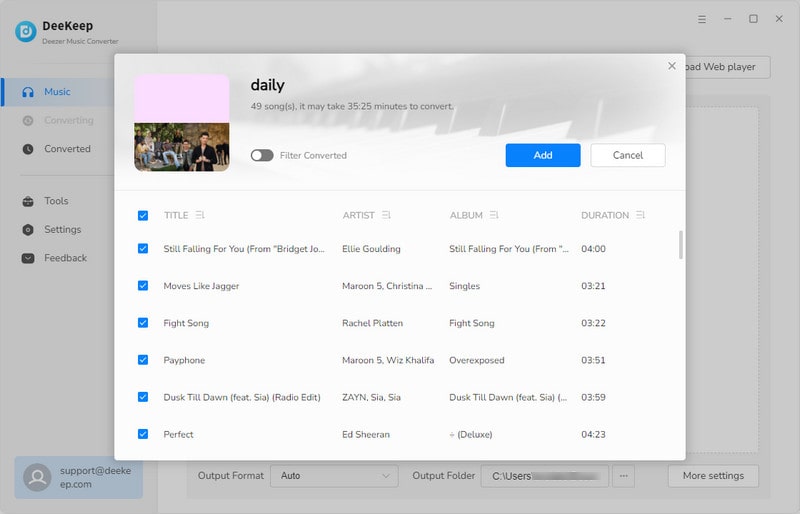 Step 4. Download Deezer Songs/Playlists/Albums/Podcasts
If you want to download more tracks from several different playlists, then click "Add More" to add them to the list. But if you just want to download tracks in one playlist, after selecting songs, click "Convert" to start conversion. Just do what you like. And you just need to wait for conversion completed. But it won't take too long, as DeeKeep converts songs at a quite fast speed.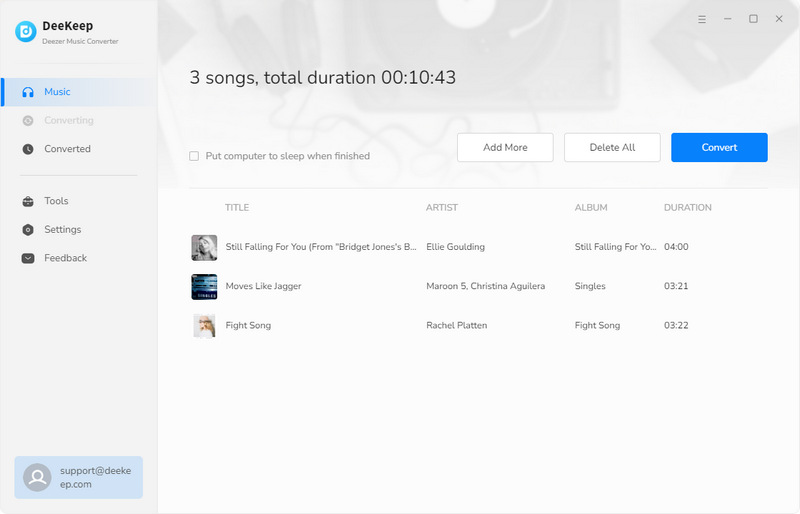 Step 5. Check Music Files on Your PC
When the conversion is completed, the window of the output folder usually pops up by itself. You now can check the properties of the converted tracks. Or you can click "Converted" tab to check the downloaded songs. Up to this step, the downloaded music tracks through DeeKeep have become common files and can be stored on your devices permanently, you can transfer them to other devices like transferring other common files to other devices. And you can listen to these tracks at any time anywhere.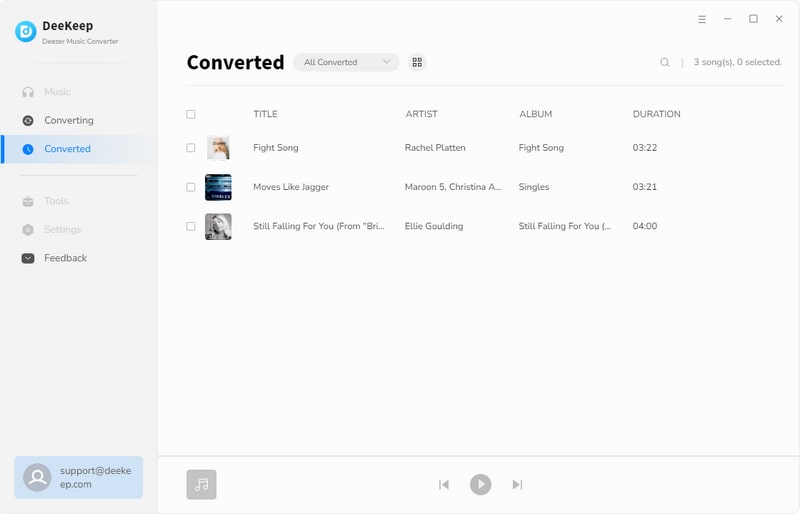 ---
Part 2.

Import Deezer Music to Serato DJ

Step 1. Download and install the latest version of Serato DJ.

Step 2. Register and log in to Serato with your account.

Step 3. Open Deezer music files in Serato DJ.

In this step, click the "Files" button, and then some folders containing music files will occur. Find out the folder location where the downloaded Deezer music lies. Open it.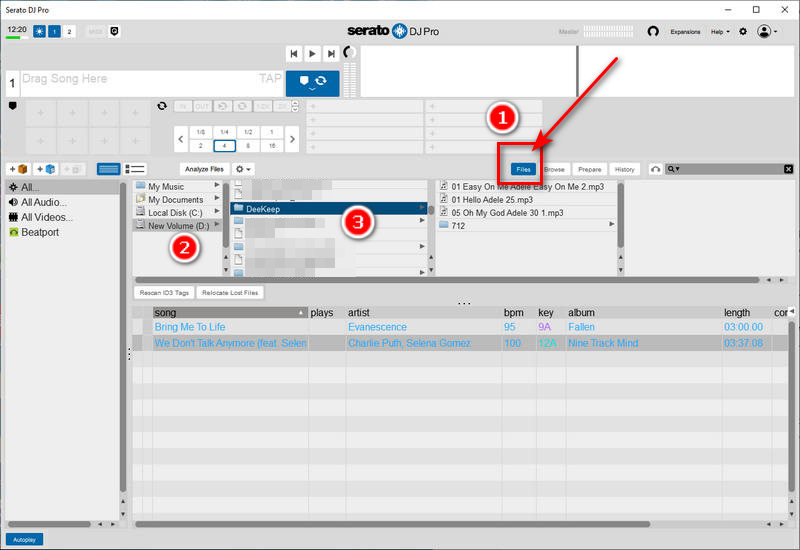 Step 4. Import Deezer music to Serato DJ.
After opening, choose one of them or choose all, then add it or them into the "All" options in the left area. And the songs will be listed. Up to this step, Deezer music has been successfully imported to Serato DJ. You can play them and mix at will.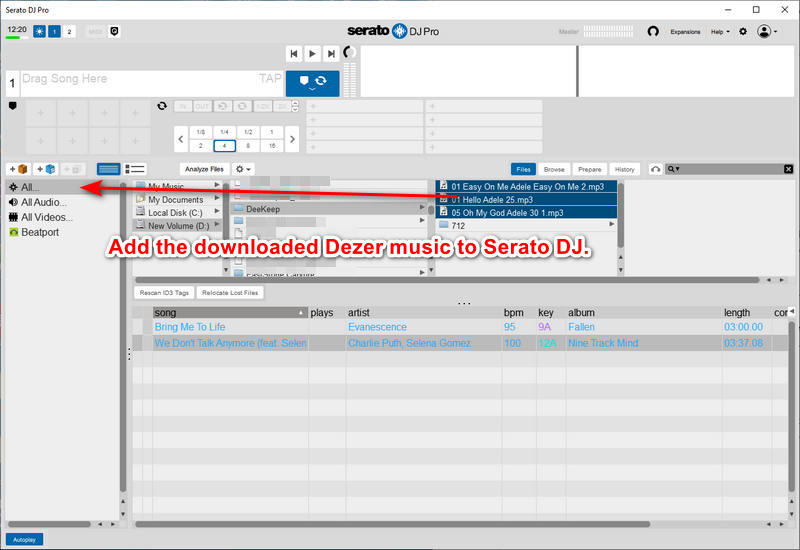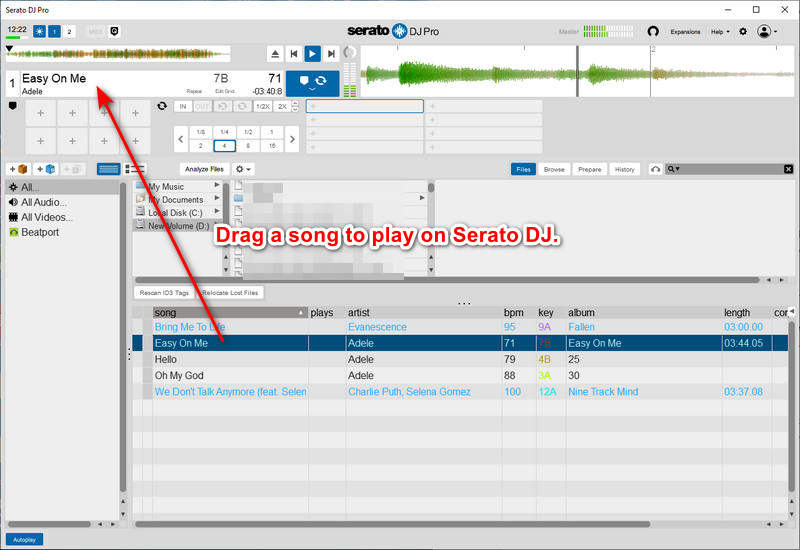 ---
Summary
From the paragraphs above, we have gotten the method of how to import Deezer music to Serato DJ. As you can see, DeeKeep Deezer Music Converter plays an important role in this process. To put it in perspective, you can use DeeKeep when downloading Deezer songs, playlits, albums and even podcasts and importing them to other DJ software such as Traktor DJ, Virtual DJ, etc. The steps are similar. Besides, you should find that DeeKeep is a really useful and wonderful tool, as it has many functions and features and can satisfy most of your needs. Don't wait, have a try!
---