How to Remove Ads from Deezer
As a popular music streaming platform, Deezer provides free and paid plans for its users. And the users can choose a plan as they needed. But it is known that these plans have different services. The biggest difference between a free plan and paid plan is that you can't enjoy ad-free listening in a free plan. How to remove ads from Deezer has become a headache for many users. Is it possible to skip Deezer Music ads? Can I download songs without ads? In this article, you can find the answer to these questions and we will provide you with ways to remove Deezer ads.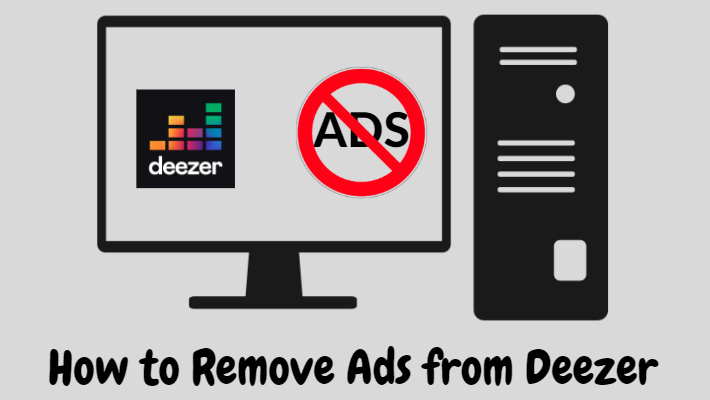 Part 1.

FAQ about Deezer Ads
❓Q1: What types of ads does Deezer have?
🔷There are four basic ads in Deezer: sponsored tracks, which will populate in between listener's regular listening; audio ad-break, which will occur in free plan users' listening; ads banner, which will show on the homepage or around the playlist in the app; mobile video, which will appear before user start to listen and can skip the ad after viewing for a minimum of 6 seconds.
❓Q2: Is it possible to skip Deezer Music ads?
🔷No, you can't skip the ads if you are a free plan user. If you want to enjoy ad-free listening, you can upgrade to Deezer Premium plan.
❓Q3: Can I download songs without ads?
🔷Of course. You can get the way in the next part. As a paid user, you can download Deezer music without encryption format.
---
Part 2.

Top Way to Remove Ads from Deezer

If you want to listen to Deezer music anytime and anywhere without ads, the best way is to download the Deezer music you want. Therefore, DeeKeep Deezer Music Converter is a useful tool that you can't miss. It is specialize in downloading Deezer music for Deezer Premium users and can help users to convert Deezer music to several common formats including MP3, WAV, ALAC, FLAC, and so on. This tool can support high sound quality up to HiFi.

With the help of DeeKeep, you can save the Deezer music for offline listening, and also don't worry about the subscription limitation. Whether it is webplayer playback or app playback, the ads can be easily removed. The downloaded songs will be kept on your local computer forever unless you delete them manually. Unlike other methods of removing ads, downloading songs through DeeKeep can be said to be once and for all.
How to Use DeeKeep Deezer Music Converter to Remove Ads
Step 1.Sign in to Your Deezer Account
Open DeeKeep on your computer. You'll see two pages popping up: DeeKeep's main interface and Deezer web player. Go to the Deezer web player and sign in to your Deezer account.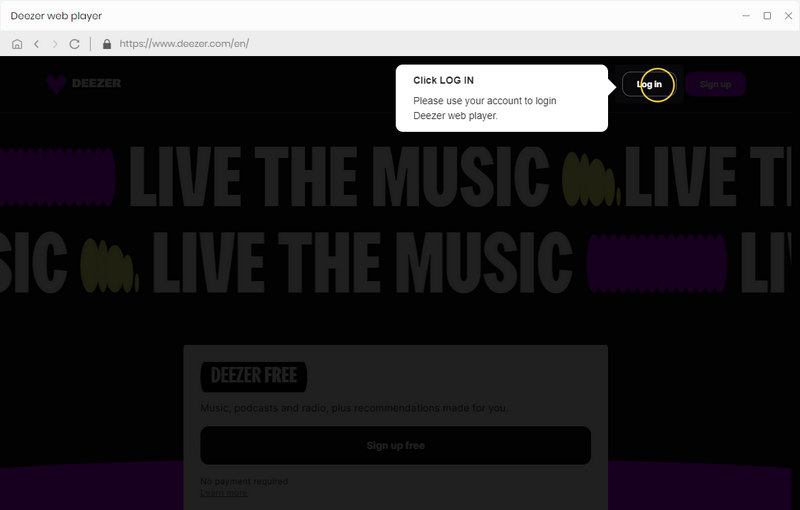 Step 2.Choose Settings As You Like
Head to DeeKeep' s main interface. Click the "Settings" tab in the lower left corner and then you can select the output settings as you like. Here you can edit the output format, output folder, output organized way, bit rate, and so on. If you want to retain the HiFi sound quality, you can choose AUTO in Output Format.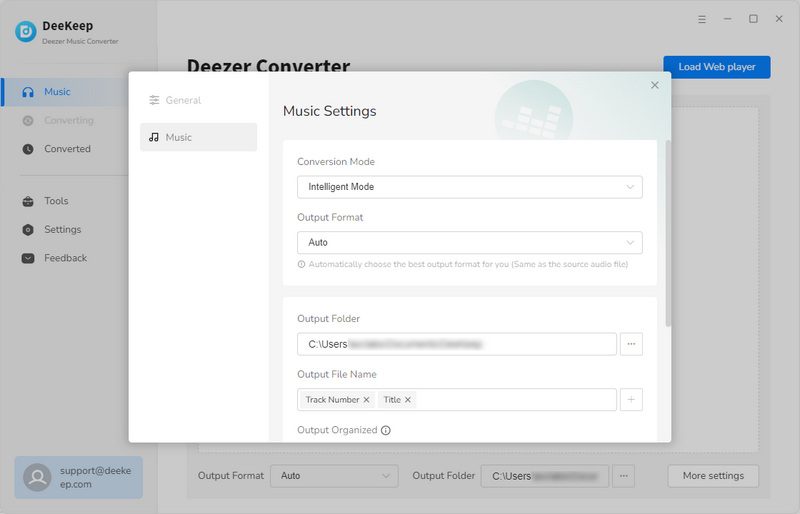 Step 3.Select Deezer Music You Want
After finishing your setting, you can go to the Deezer web player to find the song/playlist/album you want to download. Open it and you'll see a blue "Click to add" button in the lower right corner. Click it and then a parsing window will appear. Select the specific song you want and finally tap "Add" to add them to the download list.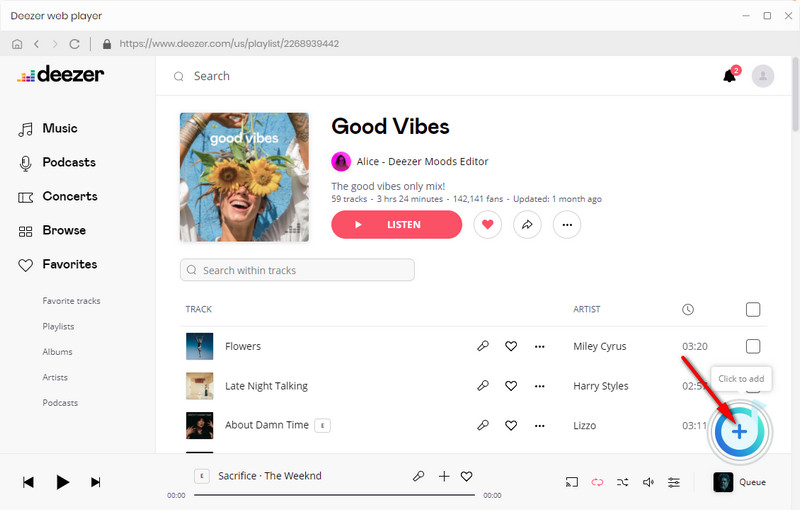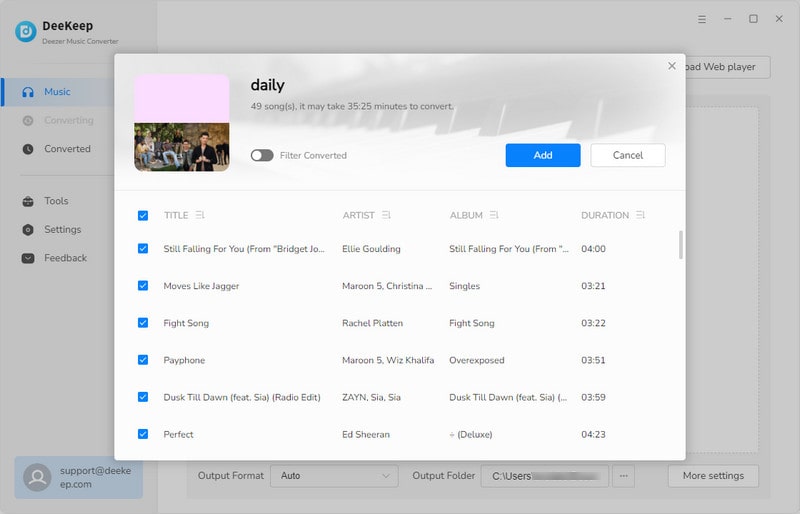 Step 4.Start Conversion
If you want to choose more songs from different playlists and convert them at once, just click "Add More" to go back to the previous step. Once the selection is finished, click "Convert" to start conversion.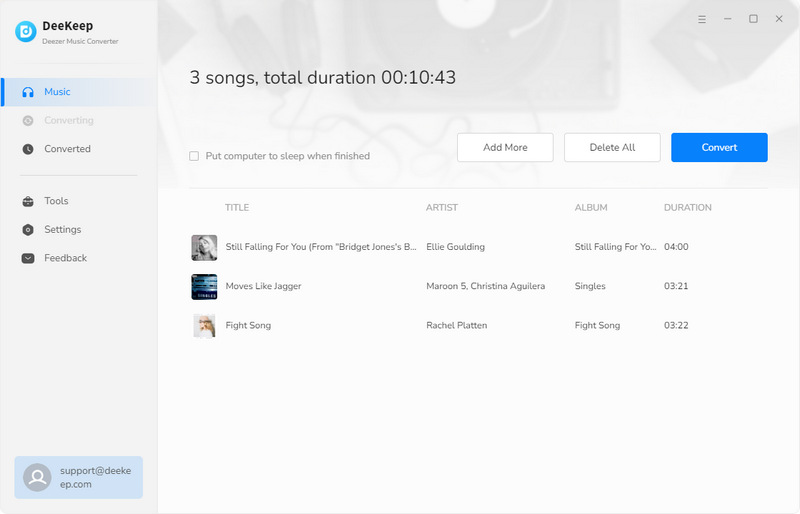 When the conversion is complete, you can go to the "Converted" section to check the downloaded songs or just click the folder icon behind the song to open the output folder.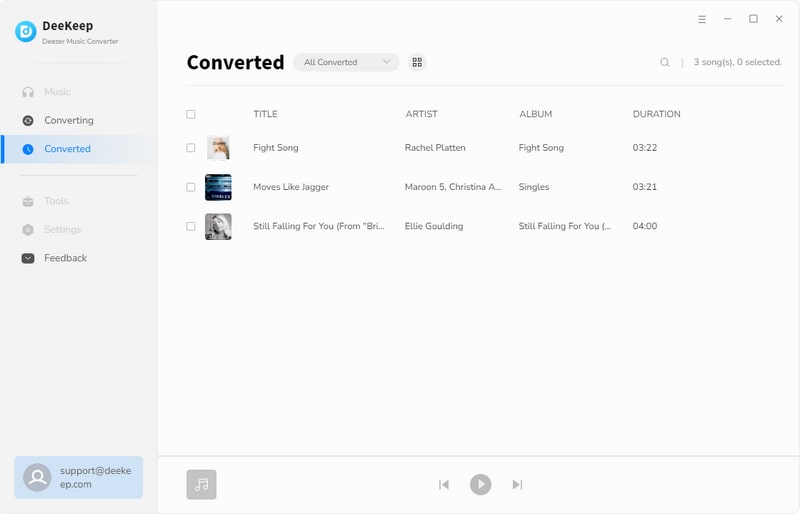 At this time, you will get the downloaded Deezer music on your computer, which means that you have successfully removed the ads from these songs! Just open and enjoy your Deezer music now!
---
Part 3.

Alternative Way to Remove Ads from Deezer

If you want to remove ads on your web player, then there is another way, which is to use an ad blocker. Here we will introduce two ad blockers to help you solve the trouble.
1️⃣ AdBlock
AdBlock is a plugin that helps users block unwanted ads. This plugin supports several browsers including Chrome, Firefox, Edge, and Safari. Free users can use AdBlock to remove Deezer ads smoothly and enjoy a comfortable website experience.
How to Use AdBlock
🔺Step 1 Open the extension in your browser and find AdBlock to install.
🔺Step 2 Go to Deezer.com and run AdBlock at the same time, the AdBlock will start to block the ads on the Deezeer web.
🔺Step 3 If you want to stop, click "Pause".
2️⃣ Deezer Fixer
Deezer fixer is also a free extension that removes Deezer ads, including "anti-adblock" and "subscribe" banners when you use Deezer on Firefox. As long as you add this plug-in on Firefox, you can block ads while using Deezer just like AdBlock, to achieve smooth listening.
How to Use Deezer Fixer
🔺Step 1 Open the Firefox browser and search for and install Deezer fixer.
🔺Step 2 Open the Extension page and choose Deezer fixer. Click Add to Firefox.
🔺Step 3 Allow Run in a private window to run the blocker, and then you can listen to Deezer music on Firefox without ads.
---
Summary
In general, there are three methods to remove ads from Deezer. The first one is to upgrade your subscription plan. But you have to maintain this status as long as you use Deezer. The second way is to add a blocker on your browser to remove ads when you use the Deezer web player.
The third way is to download the Deezer songs by DeeKeep Deezer Music Converter. It is the best way which can help you get rid of the limits of subscription and remove ads from both the Deezer app and Deezer web player. The downloaded songs will be kept on your computer permanently and you can enjoy them without ads anytime and anywhere. Therefore, you can consider these three ways seriously and choose the one which suits you best.
---